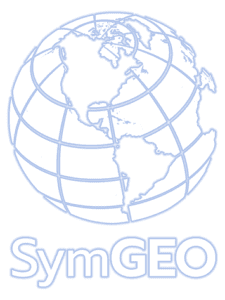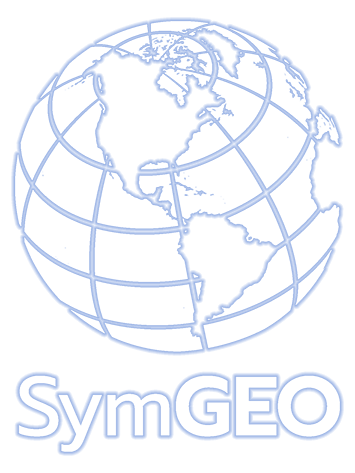 EXPERT GIS MAPPING SOLUTIONS DELIVERED BY A SMALL, MINORITY, WOMAN-OWNED BUSINESS.
SymGEO provides cost-effective Geographic Information System (GIS) mapping solutions and digital community engagement platforms for government, commercial, and non-profit clients. We specialize in geospatial data analytics, insightful visualizations, and compelling narratives to help our clients make informed decisions and tell an engaging story with their data. By leveraging available spatial data, modern GIS technology, and a holistic worldview, SymGEO provides actionable intelligence to help answer local and global challenges. We take pride in connecting "the dots" of subject matter expertise, evolving technology, and best practices to benefit our clients. Please see our printable one-page capabilities statement.
SymGEO is the spatial arm of Symago LLC, a respected Maryland technology company founded in 2001. As a small, minority, woman-owned business, we deliver tremendous value to our partners. As a GSA IT Schedule 70 holder (47QTCA19D00AL), we offer competitive rates and flexible staffing arrangements.
SymGEO is based on the founding principles that people:
Want to make informed decisions as quickly as possible
Are most comfortable with data they can see and understand
Will use modern technology when presented in an approachable manner
With 20 years of applied GIS, remote sensing, data visualization and analytical experience, we work with our clients to design innovative solutions that fit their individual needs. SymGEO focuses on cost-effective, iterative solutions using configurable applications developed in an Agile environment to put the needed tools in our clients' hands as quickly and efficiently as possible. From idea conception to successful delivery, we happily work with our clients and data partners every step of the way.
Our extensive product and service offerings include:
GIS MAPPING SOLUTIONS
Gain insight into spatial trends, outliers, and changes over time
Quickly and easily reconfigure applications as needed
Mobile responsive for data collection on the go
Wide range of solutions for every challenge
COMMUNITY ENGAGEMENT
Highlight key maps, data, reports, or applications
Enlist "people as sensors" to keep data fresh and current
Incorporate surveys and feedback for two-way engagement
Flexible and dynamic platform configured based on need
3D BUILDING INFORMATION MANAGEMENT (BIM)
Use 3D data to build interactive digital city models
Visualize existing or proposed redevelopment options
Scale up to a city, or focus on a local development
Conduct viewshed analysis or facility asset management
Save online and share interactive models on social media
SymGEO is a proud Esri Partner (Silver level), integrating best-in-class ArcGIS technology into our products and solutions, as seen in our ArcGIS Marketplace listings. We are also honored to be included in the following specialty programs that recognize our demonstrated expertise and delivery of solutions and services:
Esri Release Ready - leverage the latest versions of ArcGIS,
ArcGIS Online Specialty - help users implement and optimize ArcGIS Online within their organizations,
ArcGIS for Local Government Specialty - promote and implement ArcGIS apps, maps and solutions for local government, and
ArcGIS Hub Specialty - enable customers to build a bridge between government departments and communities.
CONTACT US TODAY
with your unique GIS project needs.
9841 Washingtonian Blvd., Suite 200-310
Gaithersburg, MD 20878